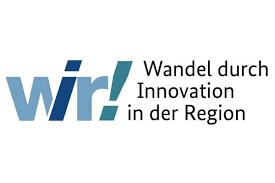 The "Smart Rail Connectivity Campus" alliance is one of 20 alliances that are being supported in the implementation phase of the "WIR! – Wandel durch Innovation in der Region" program of the German Federal Ministry of Education and Research. This program is designed to give structurally weak regions beyond the existing economic and innovation centers strong new impulses, increase regional innovation capacity and create long-term prospects for growth and employment. This is to be achieved by means of integrated strategic approaches that focus on research, development and innovation and take appropriate account of the region's existing strengths and develop them further. It is also important that as many different regional players from business, science and society as possible actively support this change.
You can find more about the WIR! program here.
The goal of the SRCC alliance is to be a powerful platform for innovations in Annaberg-Buchholz and to be a nucleus for structural change in the Chemnitz-Erzgebirge region. In order to strengthen the innovative power and competitiveness of the region's companies, the alliance offers companies the opportunity to form networks and, in particular, to cooperate with research and development institutions in a business-oriented manner. In addition to the primary innovation field of digitalized, networked, automated and sustainable rail traffic, the campus is also intended to be a crystallization point for innovations in the region's strong mechanical and plant engineering and automotive sectors. The funding provided under the WIR! program serves as start-up financing for the permanent establishment of a research campus in Annaberg-Buchholz.
For Chemnitz University of Technology as a core partner of the alliance, the project contributes not only to a cross-disciplinary pooling of existing competencies through interdisciplinary, cooperative research projects, but also in particular to the expansion and strengthening of competencies in all three core competence fields of Chemnitz University of Technology ("Materials and Intelligent Systems", "Resource-efficient Production and Lightweight Construction" and "People and Technology"). In addition, the solutions developed in the projects have the potential to be characterized by sustainability, interdisciplinarity and social benefits. As a regionally anchored university, an active and sustainable transfer is also being sought, with the aim of making the university's potential and its results in research and teaching available to business, science, society and politics.
With this project, the city of Annaberg-Buchholz is taking on a pioneering role and also serves as a model city (including the neighboring region). The electromobility concept to be developed within the project can be adapted to a large number of other cities and regions with similar characteristics – there are over 400 cities with similar characteristics in Germany. The concept can therefore serve as a blueprint for a large number of similar communities regionally, nationally and globally, which will face or already face the same challenges.

In terms of content, the city is the client and coordinator for the relevant actors.